This hike is one of my favorite adventure hikes in the county. The adventure starts with the winding, open road, country drive east through Ramona to Julian, pure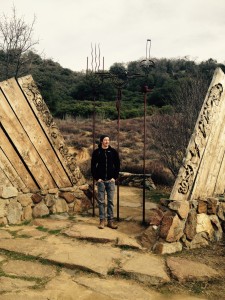 back country road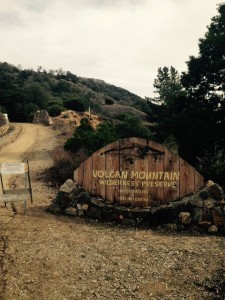 s and scenery of San Diego County.  Drive time approx. 90 minutes from the coast. (directions below)  The Preserve is located in the San Diego County backcountry's historic gold-mining and apple-farming town of Julian, CA.The Volcan Mountain Wilderness Preserve, encompasses nearly 3,000 acres, is located on Farmer Road 2 miles north of Julian. The 5,25-mile round-trip Volcan Summit Trail climbs to an elevation of 5,300 feet, offering spectacula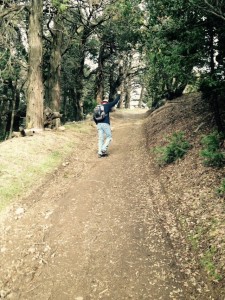 r 360 degree views from the desert to the coast. To begin the hike, pass th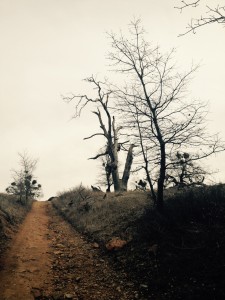 rough an inspiring gateway designed by renowned artist, James Hubbell. The Five Oaks Trail offers a scenic alternate route branching off the main trail 1/2 mile from the Gateway. You can turn right here or continue on the main trail to a gate which is about a mile from the summit. Either way you are on a well marked, compact easy trail to navigate and hike. Much of this hike is surrounded in Conifers, California Oaks, Manzanita and the occasional Mistletoe tree. Also, near the summit is an old, hut/structure that was once an outpost for engineers and astronomers looking for an optimum location for the Hale Telescope, which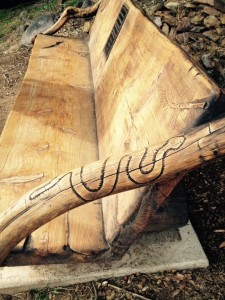 eventually found a home atop Palomar Mountain.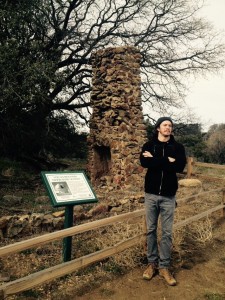 From this structure you have about a half of mile up to the summit. Both times I've hiked this trail its been super windy and cold, but the views are well worth the final strenuous climb. Once at the top the trail loops around eventually leading you to the summit. As you near this Cuyamaca lookout point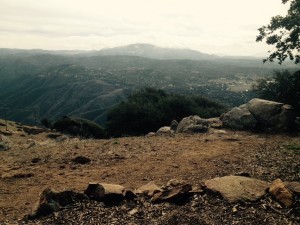 look for a pine bench that has very cool carvings etched into it. Also, from the summit you can see below to the Salton Sea and the far reaching Anza Borrego dessert. Great views of Cuyamaca Mountain and the outskirts of Julian. On the descent alternate the trail you took on the ascent so you can take in some different flora and fauna along the way. Much of this plant life is marked with a good description of what it is.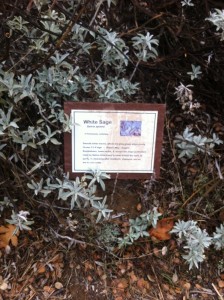 Once you get back to the gateway an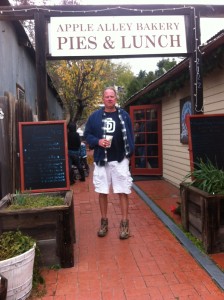 d are making your way to your car on the service road consider a well deserved drive into Julian and a stop at Apple Alley Bakery and Pie shop, in my opinion the best pie shop in town. Ask for the Caramel Apple Pecan Pie with Cinnamon Ice cream. THE BEST!
If you are up for a day adventure Hiking the back Country of San Diego County, this is the hike for you..have fun, be safe, take your time and soak in the richness Volcan Mountain Wilderness Preserve has to offer…..
Hike time and Rating: To do the 5.25 miles it took us 2 and 1/2 hours with a break at the top for snacks. This is a very 3 hour doable hike.  The most strenuous part of the trail is near the top, most of the hike is moderate.
Weather and Dress: On this day the temperature  was 52 degrees and very windy. Dress in layers, be ready for multiple weather changes along the way.
Water and Food: I took 50 oz of water but it was only 52 degrees. In summer I'd double that. Snacks always inclue protein and Carbs.  I took along 2 hard boiled eggs and a pro bar.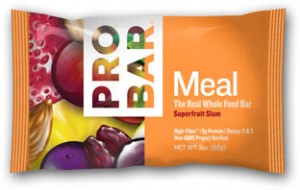 How to get there: (from all coastal and north inland communities) Head east to Escondido, take Hwy 78 past the Wild Animal park into Ramona left on 78 to Julian.
From the intersection of Highways 78 &79 in Santa Ysabel, head east (SE) on Highway 78 approximately 3 miles to the junction with Wynola Road. Turn left onto Wynola Road and continue another 3 miles just past Julian Orchards Drive to the 'scissor-intersection' of Wynola and Farmer Roads. IMPORTANT: This 'scissor-intersection' can be tricky if you're not following the directions. Do NOT turn right onto Farmer Road across from Julian Orchards Drive. Just after you pass Julian Orchards Drive, turn left onto Farmer Road, and then follow directions below from Wynola and Farmer Roads A service intersecting Farmers Road is on the immediate right, you an park off the road right he