I have always thought that the only way to see a city is by walking or as I like to call it urban hiking.  Urban hiking allows you to see the small details, hear the sounds and feel the energy that city life vibrates. Houses and buildings that you may previously zoomed past in your car, take on certain richness and come to life when hiked by. An urban hike that provides all this and more is the 7 Bridges of San Diego.  The "trail" starts at Bridge #1 on the east side of Park Blvd between Presidents way and Village place.  An early start is highly recommended for prime parking, less traffic, and lower temperatures for this urban hike that is a blend of historic to current bridges and houses along former streetcar-access routes in San Diego. After crossing the Park Blvd. Bridge #1, hike straight ahead to El Prado passing Balboa Park museums and the lily pond, continuing across Bridge #2, the 1914 Laurel St. bridge,
the first multiple-arched cantilever bridge built in California. If you are used to hiking the mountains and more natural trails of San Diego County and Southern California like me the beginning stages of this "hike" may fee strange to you. However, as you leave the crowds of people and tourists visiting this area behind, you will soon develop an appreciation of what Americas finest city has to offer as seen on this "trail".  Along the way you will pass fun city restaurants  that are tucked into the neighborhood, along with ornate architecture in the form of buildings, churches and houses. The first right turn on the trail is First Street, which will lead you to the First Street Bridge, bridge #3.
After crossing this bridge continue on First Ave to Quince St., turn right on Quince St. hike for two blocks to the Quince St. bridge entrance, bridge #4. The wooden-trestle bridge was built in 1905 and really has that turn of the century very old school feel to it, but very fun none the less.  After crossing to Fourth Ave., retrace your steps to Second Ave. and turn right (north) for two blocks to Spruce Street, then turn left crossing First Street to the Spruce Street Bridge, bridge #5.
This section of the hike takes you through neighborhoods lined with houses each offering a unique flavor of their own and a collective peace and quiet amidst the hustle and bustle of city life.  The Spruce Street Suspension Bridge is not only historic, but it is a popular San Diego icon. Crossing the bridge is an experience onto its own as with each step the bridge will sway and slightly twist. Even though my vertigo kicked in I ventured back for a
On this Sunday afternoon Hillcrest was very busy with locals and tourists each filling the local popular establishments such as Urban as well as Peets.  After taking in the people watching sites it was time to get back on the trail, quick left turn out the front door of Peets put me back onto University Ave heading east to our next left turn at Vermont Avenue.  Cross University here heading north to Vermont St. Bridge, bridge # 6.
For me this modernly constructed bridge provided me with words of inspiration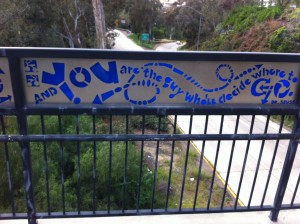 that I usually get with each hike I do, interestingly these words came in the form of a sign, literally, and yet another quality of uniqueness this urban hike provided me. After crossing the bridge turn right on Lincoln and cross University going east to Georgia Street.  Turn right at Georgia Street going south towards the final bridge on our hike and the 7th bridge on the 7 bridges of San Diego urban hike. After crossing this bridge you can turn right on any cross street to get you back up to Park Blvd. and then head south on park for the final mile of the hike and back to bridge 1 from which you started from.
I absolutely suggest this urban hike as a great way to see the diverse and interesting neighborhoods of San Diego which are linked together with 7 bridges of historical significance each with their own unique beauty embedded in the nature of the city.