HIKER THERAPY FIREWORKS HIKE:

See 6 different Tri-City and County wide Fireworks Shows

 MEET:

7pm Discovery Lake Park Gazebo, Upper Parking Area 650 Foxhall Dr, San Marcos, CA 92078

GROUP INTRO:  

7-7:15 pm

 HIKE START TIME:

 7:15 pm

 SIGN-UP:

On welcome page use contact form or call me to let me know if you are interested in joining us! I hope to see you there!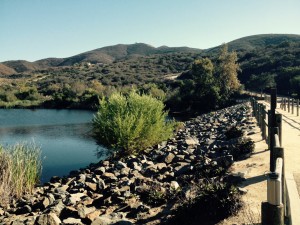 Let's celebrate Hiker Therapy's first group hike by hiking Double Peak Mountain San Marcos, CA to see 6+ different Fireworks Shows throughout the County from the Peak.  The 2.25 miles to the top is a well marked, well constructed trail that though challenging in spots is a very straight forward moderate hike taking 60 minutes to ascend.  We will get to the Peak 8-8:15 pm in plenty of time to get a comfortable spot to view the Spectacular show!   Wear  layered clothing, since cooler temps are predicted. Bring water, snacks and a headlamp or flashlight as we will be descending in the dark.  There are restrooms at trailhead start and at the Peak.  This is going to be a Blast!  Pardon the Pun.  
Look for the Guy wearing the Red Banadana, standing near the gazebo!  Please go to Welcome page contact form or call me (Mark)  at 760-652-9275 so I can get an idea how many are coming.   See you there and let's go see some Fireworks
Photos of Double Peak, including Discovery lake….