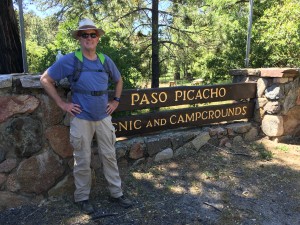 Where:   Stonewall Peak, Julian, CA. The trail-head is easily located across highway 79 from Paso Picacho Campground, the trail is easy to get too, easy parking and is part of the Cuyamaca State Park system.
When: Sunday May 22, 2016,
Hike Distance/Hikeability: 4 miles,  Moderate Strenuous, elevation gain from 4860 feet to 5360 feet
Weather:  Temp:  72
Needs:  snacks, 2 liters of water, if its warmer than 80 degrees, more water.
If you are loo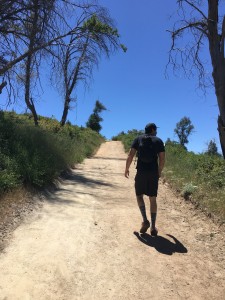 king for an out of the way, back country adventure, that offers spectacular views, a challenging trail and one beautiful drive to get there, than Stonewall mountain, Julian is the trail for you.  The trailhead for Stonewall start across the street from the campground entrance, is well marked and welcomes you with a hard compacted trail that start's your journey to the summit. The steady climb begins as soon as you pass the "Climb with Care" sign and although not overwhelmingly strenuous this trail for much of the hike offers a moderately strenuous challenge.   Stonewall Peak can immediately be seen even as you cross the street from Cuyamaca State park. Along the way you will notice beautiful Black Oak are barren.
These tress have been like this since the Fire of 2003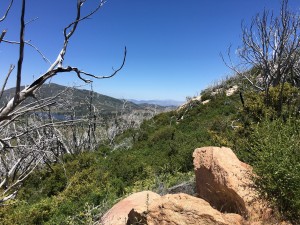 -04 that swept thru the area and claim many of these beautiful wonders of nature.  The good news is that they are growing back and even in this stage offer a beauty and a reminder of the damage wildfires can do. As you ascend the trail great views from every turn are offered as the trail get s more rocky and takes on a "switchback" type of path. Though only 2 miles to the summit, Stonewall feels like a much "bigger" hike.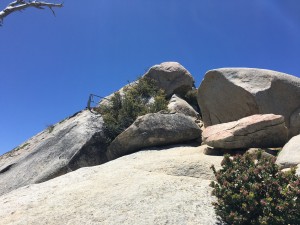 About 50 yards from the summit giant boulders dotting the peak and surrounding area appear.   Stonewall Peak has been kind as it offers a stairway for the final burst to the Summit.
A guardrail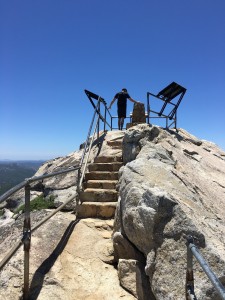 provided a safeguard and although relatively safe in non-snow and ice conditions be careful on the last 100 feet of the journey.
The views are incredible. From here you can see the Salton Sea, looking closely to the northwest the Palomar mountain Observatory can be seen as well as the Cuyamaca State Park and where you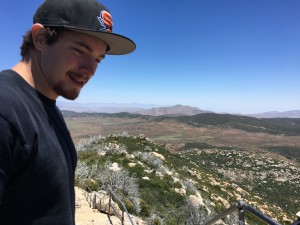 began this wonderful journey, the trailhead start below. The beauty of hiking San Diego County is just that…The Beauty. Also an opportunity to climb Peak after Peak for the very first time. Stonewall Peak is a Peak I hadn't climbed and not only is it on the Top 100 Peaks to climb in our area but it is a rare relatively unknown hike that offers so much…
On this day a Sunday I was pleasantly surprised to see many families on this trail as well as couples and hikers of all ages.   
An added benefit to hiking the Julian area is that you are close to the town of Julian, which can only mean one thing! A stop ay Apple Alley Pie shop…if you haven't been .Go!   I say the Caramel Pecan Apple Pie makes this the best pie shop in town and one that not many know about. The shop is right on Main Street right off of "Apple Alley"
Hiking for me offers so much: Peace, accomplishment, spirituality, exercise, calm and a way for me to stay present and be in the moment. I hope Stonewall peak will offer you this and more! Hike safe!