STEPS: 12787 DISTANCE:  5.38 Miles ELEVATION GAIN: 780′  HIKE TIME:  2:57 minutes including 20 minute stop at falls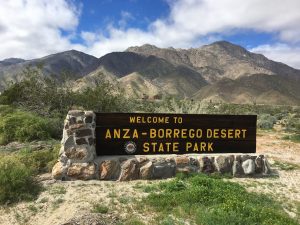 Directions to Hell Hole Canyon, Maidenhair Falls 
Distance from downtown San Diego: 90 miles. Allow 2 hours (Anza-Borrego Desert State Park). Drive to Ramona and follow Hwy 78 east 15 miles to Santa Ysabel. Turn north (left) on Hwy 79 and after 11 miles turn southeast (right) on S-2. At the turn-off for S-22 (Montezuma Valley Road) turn east (left) and follow S-22 to the bottom of the grade, watching for the turn to the west (left) into the Hellhole Canyon parking area. Restrooms.
This hike will grab you from the get go based on the natural beauty of the surrounding area.  You are submerged in a desert landscape and heading towards a waterfall, it doesn't get any better than that.  The local flora and fauna is made up of Vegetation such as creosote, burroweed, chuparosa, cheesebush, buckhorn cholla, agave, and desert lavender give way to desert willow, brittlebush, jojoba, ocotillo, teddy-bear cholla, and white sage. At about the 1.75 mile mark as the canyon narrows and steepens, the first palm trees and sycamores become visible.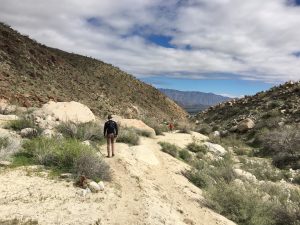 Begin the hike from the parking area and follow the wide, well-worn path to the narrowing mouth of the canyon where the ribboned pattern of Julian schist becomes visible on the canyon walls. A cautionary sign reminds you that you are in mountain-lion country.  Not to mention the grave and marker with the caption THEY DIDNT BRING ENOUGH WATER.  On this day of our hike it was 40s and 50s early in the morning, but warmed up to middle 70's during the hike.  If you are going to hike Maidenfair Falls any time other than October-March, start very early, because the heat will be unbearable after 11am.  We started at 8:30 and we back by 11:30AM.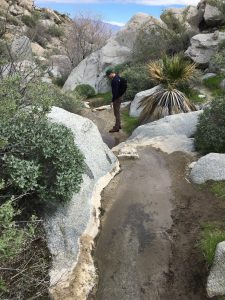 This 5.5 mile hike is pretty easy with little elevation gain in the beginning, however at the 1.75 mile mark your flat well worn trail now turns into an exercize of climbing and maneuvering over rocks, under fallen branches and around a lot of plants that can cut you.  Use caution ascending the narrow canyon that is filled with boulders and thorny mesquite and acacia. It is best to hike in long sleeves to avoid scratches. The thorny underbrush led to the name Hellhole Canyon. In earlier days, cattle would roam down into the canyon from Culp Valley. Cattleman Wid Helm reportedly said that the
canyon was "one hell of a hole to get cattle out of."  As you approach the water fall the small creek you are following will get wetter and the sound of rushing water will get louder.  A few more climbs and scrambles and you are there. If you are expecting the falls of Three Sisters, or even Cedar Creek, this isn't it, but the 18 foot cascade of water is well worth the hard work to get there.
We hung out at the fall for about 20 minutes and were the only ones there, having seen maybe 4 others out on the trail.  However as we head back at 10:15 AM, more and more hikers were approaching us heading towards the falls.  Descend back the way you came and enjoy the majestic views of the canyon and surrounding mountain beauty.  As you approach the parking lot trailhead look to your left to see the famous "Indian Head.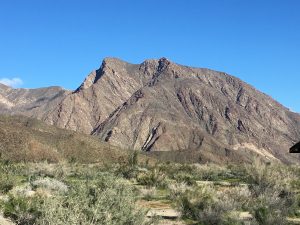 "
To see a totally different area of our county that one does not ordinary see or hike, Maidenhair Falls at Hell Hole Canyon Trail  Anza Borrego State Park, is yet another example of how fortunate we are to be living in an area that offers such diversity, geography and beauty..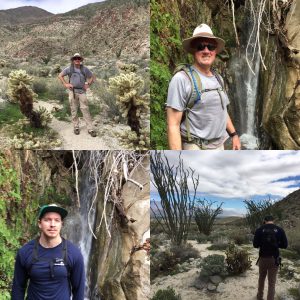 As always hike with a partner, water, water, water and something to eat.
HIKE-ABILITY:  Easy majority of the time first 1.75 miles, remainder moderate difficult based on some scrambling to get to the falls WATER:  1.5 liters used, 3.0 liters taken FOOD:  snack bar, hard-boiled egg, sandwich