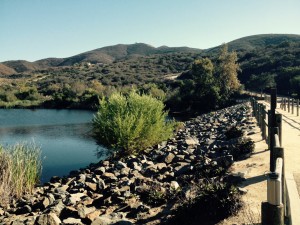 If you are looking for a good go to hike and are in North County, Double Peak in San Marcos is the hike for you. This hike is easy to get too, it is a clean and well designed out and back trail, and it offers enough challenge, climb, and distance to give you a good workout along with a sense of accomplishment.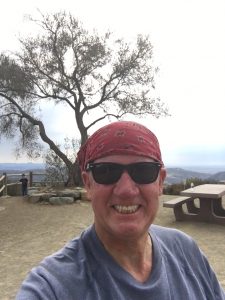 There are a few ways to approach the trail, the one I usually choose is the trailhead at the end of Foxtail Drive, which leads you to a small parking area at the end of Foxtail. You can start either side of Discovery Lake, one side leads you past the lake on your right and over the bridge, The trail up to the summit leads to the left.
The trail ascends up winds to the right and you are off and climbing. The remainder of the way is a gentle climb, flattens out on a very well made compacted sandy trail. Keep climbing until you get to the road, which leads to the summit. Along the trail notice the sections that were burned in the fire and the new regrowth that is happening. The trail will end along side the road that leads up to the top.
As you follow the trail (sidewalk) up the road you will come to a point where you can rejoin the more rugged rocky part of the trail or you can continue up sidewalk. I prefer the trail as it adds to the challenge and provides a more rustic experience to the hike. As you ascend to the top turn left and you we see the tree. Ascend a steep section to the summit and you made it to the 1646-foot summit of Double Peak Mountain! The summit has picnic tables a restroom and a great view of mountains east, Palomar College Cal State San Marcos and to the west the Ocean.   
Take your time enjoy the great views and reward yourself with the peaceful setting the summit provides. The distance from the lake to the summit is 2.3 miles which takes an hour or less. The descent down should take you 40 minutes.
Our county has many great hikes, most of which are south and east of us up here in North County. However, for a hike that is close by and still offers the feeling of ascending a mountain try Double Peak. Afterward Sonic for a snack!

Distance & Time: 4.6 miles 2.5 hours with 40 minutes at the top

Water & Snack: 56 oz and a Pro Bar

Time & Tempature: 4pm 85 degrees

Restrooms: At trailhead start in parking lot and at summit,,,,,,,
Getting there: Take Highway 78 to San Marcos Boulevard. If coming from the coast, turn right. If from the 15, turn left. Turn left onto Bent Avenue, which will turn into Craven Road. Turn right onto Foxhall Drive, and then turn right into the Discovery Lake parking lot or park along the street.