A hike I have always wanted to do in San Diego County is San Miguel Mountain, which is east of Chula Vista in the Eastlake area of our County. This trail is interesting  in that its trailhead is located in the very nice community of Eastlake, literally, in fact you park on the side streets of suburbia to get to the start.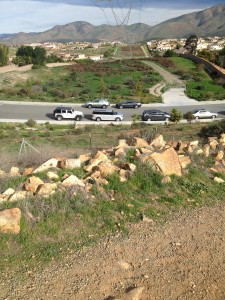 Right from the get go you start to ascend rather steeply towards the summit and understand that this is going to be one difficult hike!  The good news, you can see the summit and its Radio/TV towers the entire 3 mile up hike.
The first 1.5 miles of this trail is a steady steep climb, the trail is very rocky in spots so be careful, in fact most of the hike the trail is rocky or flat earth.   There is a "False" peak half way up at about the 1.5-mile mark, which is landmarked with the American Flag. Most take about an hour to get here; our time at the 1.5-mile mark was 44 minutes. To get to the flag veer left along the trail, to continue on to the "real" summit of San Miguel stay right and follow the trail. The beauty of this hike is that you cannot get lost; just stay on trail that's under you and you will be lead to each summit.   Most who hike San Miguel get to1.5 mile "flag" point and stop, as well as thinking that's the entir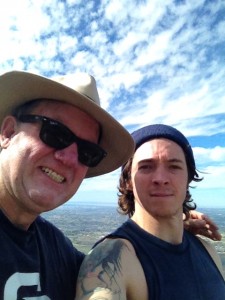 e hike, its not, keep going for the next 1.5 miles. Right after the 1.5-mile mark, the trail flattens out a bit as you wind around and then down to the valley point right before your steep ascent up to the peak of San Miguel Mountain. Although not easy once you summit you will be rewarded with a huge sense of accomplishment and incredible views of Mexico, The Coronado Islands, Downtown SD and much more.     Take your time at the summit, refuel with snacks, lots of water and take in the panoramic reward you deserve. The descent back can be tricky due to the same steepness coming up is now the challenge going down.  Slow and steady prevents sprains or breaks.
"Excluding Mt. Whitney and possibly Mt. Baldy this is the most difficult hike I've done in the state/county. However, it is very doable, one step at a time! As always lots of water, it can get hot out there so best time to Hike San Miguel is fall thru early spring and the earlier in the day the better.   In late January when we hiked San Miguel it was in the low 70's."
Directions:  From North CountyTake the 805 S to 56 east to 125 to H street and go East. Take the E H St exit Toll road Turn left onto E H St Continue onto Proctor Valley Rd Turn left onto Coastal Hills Dr Turn left onto Butterfly Way Butterfly Way turns right and becomes Iron Gate Ln Destination will be on the left

San Miguel Mountain Trailhead, Iron Gate Lane, Chula Vista, CA 91914
Date Hiked: 01/25/15  HIkeability:  Difficult    Distance/Time/Temp.:  6 miles up hill both ways in spots, seriously.  3 hours/low 70's.  Water:  2 liters, plus if hot.  Snacks:  PRO Bar now my new favorite trail food.